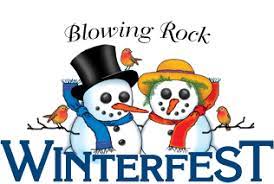 Blowing Rock WinterFest Logo
The Blowing Rock Winterfest is Back!
2023 brings the 25th Blowing Rock WinterFest event, with a calendar full of seasonal activities.
From Thursday, January 26 through Sunday, January 29, everyone is again encouraged: don't hibernate- celebrate! Back for 2023, the Polar Bear Plunge at Chetola Lake is arguably the most-loved event. Register to take a chilly dip in the icy water, or help countdown participants from beside the firepit, if that's more your speed. John Carter of WBTV Charlotte returns as emcee, and the participant costumes are sure to delight. There's so much more packed into the weekend that you won't want to miss, starting with WinterFeast, presented at Green Park Inn. Sample a variety of culinary treats provided by several popular restaurants from the area. So many choices and an opportunity to expand your palate with some top picks from our local chefs! Several festival activities are free, some are ticketed. For a full schedule of events, tickets, lodging partners, event packages, and participation information, go to blowingrockwinterfest.com. Tickets and info are also available by calling 828-295-7851.