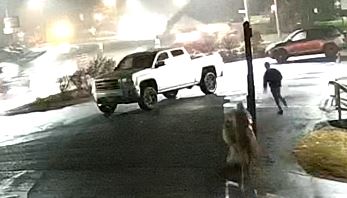 Someone Stole a Blow-up chicken from Zaxby's
On 11/01/2022, around 9:55 p.m., The blow-up chicken in front of Zaxby's was stolen. The suspects are two males.
One was wearing what appears to be a grey sweatshirt, yellow and black stripped overalls, and a black baseball cap. The other suspect appears to be wearing jeans, a black jacket, and a yellow baseball cap. They can be seen leaving in white four-door pickup, of unknown make or model. If you recognize the suspects, or have seen the Zaxby's chicken, please contact Crimestoppers.
Anyone with information on this crime or any other crime is asked to call Crime Stoppers at 828-268-6959 / 828-737-0125 or the Boone Police Department at 828-268-6900.
---