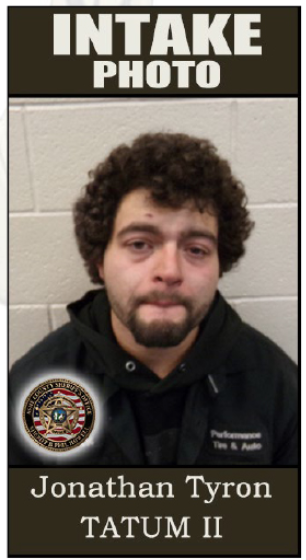 Ashe County Sheriff's Office Arrests Drug Trafficker
On January 10th, Ashe County Sheriff's Office (ACSO) arrested 24-year-old Jonathon T. Tatum II of Boone, North Carolina for four counts of felony trafficking in methamphetamine.
The arrest was the result of a joint investigation between the ACSO Narcotics Division, North Carolina State Bureau of Investigation, Boone Police Department, and Watauga County Sheriff's Office which started in early 2022. During the joint investigation, law enforcement officers were able to purchase several ounces of methamphetamine from Tatum and allege that he trafficked 2.5 ounces of methamphetamine from Boone to Ashe County. In addition to the four felony trafficking charges, Tatum was also charged with felony possession of methamphetamine, felony delivery of methamphetamine, felony selling of methamphetamine, and felony possession with the intent to manufacture, sell or deliver methamphetamine. Tatum is currently being held in the Ashe County Detention Center and is expected to appear in court in the near future. The ACSO has said that they are continuing to investigate this case and that more information may be released in the coming weeks.
---